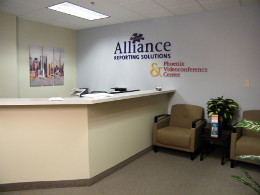 Alliance Reporting Solutions is pleased to add you to our schedule. Please fill out the form below listing your requirements and we will take care to meet your needs.
A courtesy phone call to confirm your event and all details concerning it will take place 24-48 hours before the occurrence of your event.
To schedule a videoconference for this job, please list that request in our "special requirements" section and a representative from Phoenix Videoconference Center will contact you.